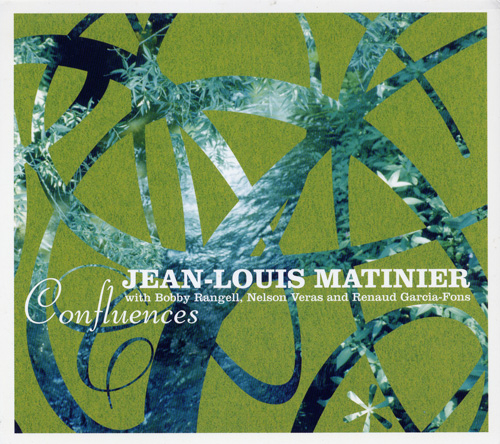 Artist:
Jean-Louis Matinier
Album:
Confluences
Genre:
Contemporary Jazz, Modern Creative
Label:
Enja Records
Released:
2003
Quality:
FLAC (image+.cue)
Tracklist:
Soleil Rouge
Rio D'Oro
Seven Steppes
Plainitude
Jardins D'Enfance
Sambadynos
Unité-Multiple
Confluences
Mistytorway
DOWNLOAD FROM FILECAT.NET >>>
Personnel:

Jean-Louis Matinier - accordion
Bobby Rangell - flute
Nelson Veras - acoustic guitar
Renaud Garcia-Fons - acoustic bass
Parisian accordion master Jean-Louis Matinier, arguably the most adventurous and open-minded virtuoso on his instrument, presents his long-awaited debut album as a bandleader. Matinier studied classical music, then turned to jazz and other improvised styles, easily crossing the borders between ethnic traditions, swinging grooves and daring innovations in the new classical vein. An irreplaceable collaborator for many of his colleagues, Matinier can be heard on recordings by (among others) Louis Sclavis, Gianluigi Trovesi, Michel Godard, Anouar Brahem and - most noticably - bassist Renaud Garcia-Fons. His duet album with Garcia-Fons, "Fuera" (ENJ-9364 2), received highest critical praise. "A CD that grabs you from the first joyous note. It's an exciting trip" (The Gazette, Montreal).
The quartet on "Confluences" is a well established working group with a lot of concerts to their credit. In Matinier's opinion the combination of accordion, flute, guitar and bass is an ideal quartet setting providing a maximum of timbre and dynamics while keeping a clear balance and engaging lightness of sound. Flutist Bobby Rangell from Denver (Colorado, USA) excels with his remarkably heavy, full tone that could previously be enjoyed in the music of Gil Evans, the Paris Salsa All-Stars and Gaucher's "Zap Zappa" project. Although the youngster in the band, Brazilian guitar virtuoso Nelson Veras has already performed with such as Pat Metheny, Michel Petrucciani, Biréli Lagrène, Jean-Michel Pilc and Lee Konitz. Last not least, French-Spanish bassist Renaud Garcia-Fons is a well-known bandleader in his own right, frequently admired for his viola-like con arco playing, his Mediterranean melodicism and his great ensemble albums.
The title "Confluences" points at the fact that on this album many various influences come together to generate something new - Matinier's unmistakably personal vision. Those familiar with the album "Fuera" (that already included several tunes of his) know that Matinier the composer is inspired by folkloristic melodies as well as rock rhythms and loves the surprise of sudden changes and twists. While an artistic statement spangled with virtuosic highlights, these "Confluences" never stop to charm with a dancing spirit and a lovely flow. It is a firework of melody and rhythm, a dramatic stream of music comparable to the wonders of "Fuera" and "Oriental Bass". A debut worth waiting.