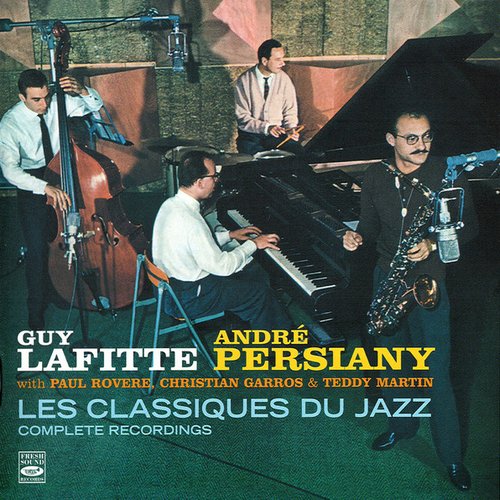 Artist:
Guy Lafitte & Andre Persiany
Album:
Les Classiques du Jazz (Complete Recordings)
Genre:
Swing, Bop
Label:
Fresh Sound Records
Released:
2018
Quality:
FLAC (tracks+.cue)
Tracklist:
Down in Honky-Tonk Town (2:01)
Melancholy (2:23)
Savoy Blues (2:49)
I'll Never Be the Same (3:08)
At Sundown (2:10)
Careless Love (2:33)
Ole Miss (2:57)
Nobody Knows When I'm Down and Out (3:47)
Basin Street Blues (3:27)
Black and Blue (2:54)
Struttin' with Some Barbecue (3:34)
I'm Coming Virginia (2:44)
St. James Infirmary (2:30)
Wrap Your Troubles in Dreams (3:43)
Dear Old Southland (3:14)
When It's Sleepy Time Down South (2:10)
I Ain't Got Nobody (1:49)
Ain't Misbehavin' (2:55)
I've Found a New Baby (2:22)
Frankie and Johnnie (2:54)
Chicago (3:10)
Sugar Blues (3:22)
Baby Won't You Please Come Home (1:54)
Rockin' Chair (2:47)
Squeeze Me (2:18)
DOWNLOAD FROM FILECAT.NET >>>
Personnel:

Guy Lafitte - tenor saxophone
Andre Persiany - piano
Paul Rovere - bass
Teddy Martin, Christian Garros (#12-25) - drums
In the 1950's, tenor saxophonist Guy Lafitte (1927-1998) was considered one of the luminaries of European jazz. In his playing he integrated the harmonic and rhythmic contributions of modern jazz to a more classical style in the lines of Buddy Tate, Eddie 'Lockjaw' Davis, Frank Wess and many others who were influenced by Coleman Hawkins and Hershel Evans.
For Lafitte, the emphasis of his playing was always in the strength of his sound, and in his swinging approach to the language of jazz, both qualities that earned him the Django Reinhardt Prize in 1954, the highest honor granted by the French Academie du Jazz. That same year he became the immovable tenor sax of the Parisian cabaret "Les Trois Mailletz", where he played for almost four years in the company of his friend and pianist André Persiany "Pépé." In him, Lafitte found his perfect partner, and their relationship was immortalized in these two volumes of "Classiques du Jazz," gathered here for the first time.
They show Lafitte blowing with solid vitality and virility, carrying with his horn the bulk of these excellent sessions. Persiany doesn't lag behind though: his piano is firm enough to keep up with Lafitte, and suave enough to counterbalance him. Furthermore, each tune gives him unrestricted opportunity for some eloquent soloing. As for the rhythm section it works gracefully and naturally, with Paul Rovère on bass, and Teddy Martin or Christian Garros on drums. All concerned enjoyed themselves thoroughly, a spirit that readily communicates here from start to finish.