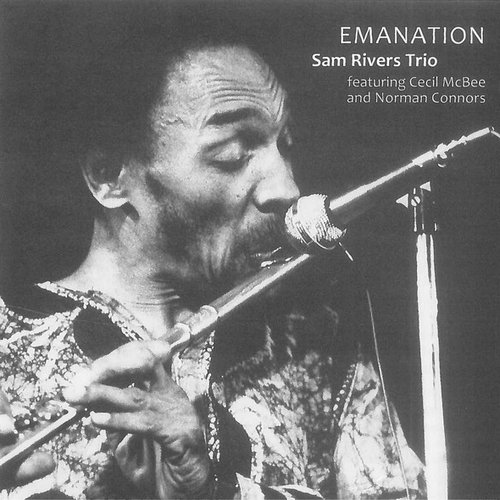 Artist:
Sam Rivers Trio
Album:
Emanation
Genre:
Free Jazz
Label:
NoBusiness Records
Released:
2019
Quality:
FLAC (tracks+.cue)
Tracklist:
Emanation Part I (Rivers) - 31:09
Emanation Part II (Rivers) - 45:32
DOWNLOAD FROM FILECAT.NET >>>
Personnel:

Sam Rivers - tenor saxophone, soprano saxophone, flute, piano
Cecil McBee - bass
Norman Connors - drums
This unissued 1971 live date from the Jazz Workshop in Boston is the first in a projected eight volume series sourced from the personal archive of the multi-instrumentalist Sam Rivers, who died in 2011. It captures Rivers with his trio of the period, completed by bassist Cecil McBee and drummer Norman Connors, over two freewheeling sets. Rivers was one of the most significant voices in the 1960s avant-garde. He recorded classic albums for Blue Note, was a founder member of the Jazz Composers Guild, and featured in Miles Davis' Quintet as the precursor to Wayne Shorter. In the 1970s he was also both activist and promoter in the New York loft scene, through his Studio Rivbea space.
He utilized the trio as one of his preferred means of expression (alongside the more logistically challenging orchestra). As was his wont in the format, he creates form spontaneously, and showcases each of his instruments: tenor and soprano saxophones, flute and piano. He begins "Part I" alone on tenor, and proceeds to seesaw between a floating post-bop feel which recalls Jimmy Lyons (Rivers band mate in Cecil Taylor's late-'60s unit), and overblown hollers, repeatedly building to a roiling climax, only to regroup for a further assault, ably abetted by Connors. Sadly McBee's bass is lost in the louder passages, but he gets the opportunity for a lengthy fleet-fingered pizzicato excursion while Rivers switches to flute.
On flute, Rivers is folky and boppish, tracing a buoyant course, while McBee walks his bass and Connors marks time on cymbals. When he moves to piano, where he evokes both early Cecil Taylor and classical romanticism, the backing becomes more textural and free. Whatever the conduit, Rivers continually reinvigorates his lines, working in broad arcs without a safety net, using licks and extemporized figures to relaunch himself and occasionally mirroring his accompanist, particularly some of Connors' rhythmic phrases.
For the first 20 minutes of "Part II" he plays chirruping, husky, snake charmer soprano saxophone, pacing himself through a succession of peaks without real resolution, maintaining an ongoing tension. There's an electrifying section when he wields to flute once more, where he interrupts the airy dancing lilt with increasingly raucous cries, culminating in screams to "Look out motherfucka," which wholly belie the innocuous tone of his flute work. The vocal shouts continue, taken up by Connors and McBee too, when Rivers shifts once more to piano, alternately pummeling and rippling, before concluding in a tandem with Connors' drums.
This first installment suggests a mouthwatering treat in store, and one which will burnish Rivers' reputation even more.
Review by John Sharpe