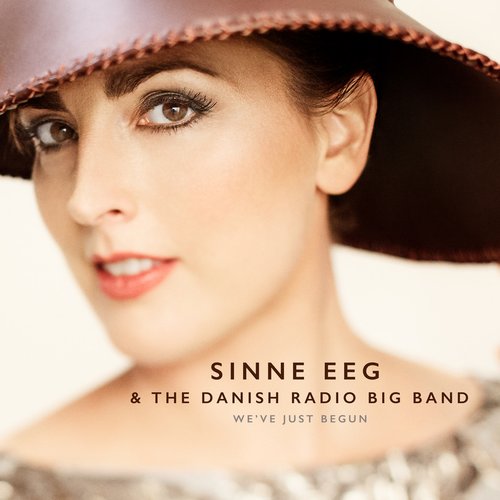 Artist:
Sinne Eeg & The Danish Radio Bigband
Album:
We've Just Begun
Genre:
Vocal Jazz
Label:
Stunt Records
Released:
2020
Quality:
FLAC (tracks+.cue)
Tracklist:
We've Just Begun (Eeg-Winkler-Nyman) - 4:03
Like a Song (Eeg) - 5:20
Those Ordinary Things (Eeg-Hansen) - 5:04
Talking to Myself (Francker-Freeman) - 3:35
Hvorfor er lykken sa lunefuld (Jonsson-Meincke) - 4:37
My Favorite Things (Rodgers-Hammerstein) - 5:05
Samba em comum (Eeg-Adolfo-Hansen) - 5:47
Detour Ahead (Ellis-Frigo-Carter) - 5:54
Comes Love (Stept-Brown-Tobias) - 6:41
To a New Day (Schack-Eeg) - 5:41
DOWNLOAD FROM FILECAT.NET >>>
Personnel:

Sinne Eeg: vocals, composer, arranger;
Nikolai Bogelund: conductor;
Dave Vreuls: trumpet;
Bjarke Nikolasjsen: trumpet;
Thomas Kjergaard: trumpet;
Mads la Cour: trumpet;
Gerard Presencer: trumpet;
Lars Vissing: trumpet;
Peter Fuglsang, Nicolai Schultz, Hans Ulrik, Anders Banke, Frederick Menzies, Anders Gaardmand, Jan Harbeck: saxes;
Peter Dahlgren: trombone;
Vincent Nilsson: trombone;
Kevin Christensen: trombone;
Annette Saxe: trombone;
Jakob Munck: trombone;
Henrik Gunde: piano;
Per Gade: guitar;
Kaspar Vadsholt: bass;
Seren Frost: drums.

Guest musicians:
Rune Harder Olesen: percussion (3);
Luis Conte: percussion (7);
Sille Grenberg, Birgitte Soojin, Ninna Milner Juel, Maja Hanghoj, Alice Carreri: backing vocals (7).
Any vocalist who can summon the world-class Danish Radio Big Band to serve as a backup group must have something special to offer. Sinne Eeg, whose lustrous voice uplifts and illuminates her ninth album, We've Just Begun, has all of that and more. Eeg, as it turns out, is a shining star in her native Denmark—and if she weren't, she certainly should be. Singing mostly in English, Eeg displays a charming voice that is strong and clear and a style that is jazz-inflected but unmannered, in the image of her role models: Ella Fitzgerald, Sarah Vaughan and Anita O'Day. For comparison's sake, the contemporary vocalist who springs to mind is Roberta Gambarini, and there can be no higher compliment than that.
No less than four of Eeg's earlier albums earned Danish Music Awards for Best Jazz Vocal Album of the Year, and the impression here is that We've Just Begun should be a strong contender for Music Award No. 5. Besides singing, Eeg wrote or co-wrote half of the album's ten selections, starting with the album's opener / title song, a freewheeling swinger on which Eeg's buoyant vocal (and scat chorus) is underlined by the band and tenor saxophonist Hans Ulrik. Eeg wrote the engaging waltz, "Like a Song," which follows, and co-authored the wistful and meditative ballad, "Those Ordinary Things," with lyricist Helle Hansen.
The DRBB's rhythm section shines on "Talking to Myself," an old-line swinger on which Eeg showcases her admirable jazz chops, grooving and scatting in a style that would certainly have pleased the above-named role models. She sings in Danish on "Hvorfor er Lykken Sa Lunefuld," a melodic song from the 1937 Danish film A Consummate Gentleman, before addressing the first of three American evergreens, Rodgers and Hammerstein's "My Favorite Things," whose even-tempered opening stanza gives way to a fiery midsection with burning solos by tenor Frederik Menzies and drummer Soren Frost. As if to show there is no limit to her virtuosity, Eeg sings the gently swaying "Samba em Comum" in English and Portuguese. The light-hearted solo is by trombonist Peter Dahlgren.
The next two numbers, "Detour Ahead" and "Comes Love," were scored for Eeg by her longtime friend, the late American saxophonist / arranger Roger Neumann, to whose memory the album is dedicated. "Detour" advances slowly, lending full rein to Eeg's shapely and seductive voice, while "Comes Love" allows her to make the most of its clever and playful lyric (with more scatting thrown in for added spice). Eeg rings down the curtain with another of her compositions, the enticing, gospel-flavored anthem "To a New Day," which further underscores her impressive range and unerring timbre. Make no mistake, this is Eeg's album all the way, and she is a radiant and beguiling centerpiece. As for the Danish Radio Big Band, it is the luscious icing on the cake.
Review by Jack Bowers