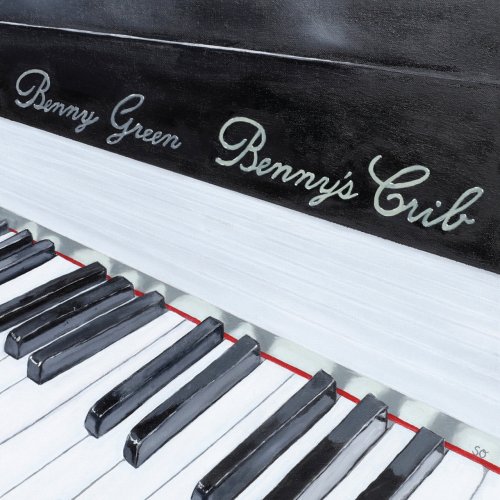 Artist:
Benny Green
Album:
Benny's Crib
Genre:
Post-Bop
Label:
Sunnyside Records
Released:
2020
Quality:
FLAC (tracks)
Tracklist:
Tivoli (2:07)
Central Park South (3:07)
Coral Keys (4:08)
My Girl Bill (3:45)
Harold Land (3:06)
Did We Try (1:55)
Seascape (4:36)
My One and Only Love (5:09)
Something in Common (4:23)
For Tomorrow (4:56)
Benny's Crib (2:38)
DOWNLOAD FROM FILECAT.NET >>>
Personnel:

Benny Green - electric piano (1-11), piano (2, 5)
David Wong - bass (2-3, 5, 7, 9 & 11)
Aaron Kimmel - drums (2, 5, 7, 9, 11)
Anne Drummond - flute, alto flute, bass flute (3, 5)
Veronica Swift - vocals (11)
Josh Jones - congas (3)
Benny Green's notes on his upcoming album, Benny's Crib:
My primary instrument will always be the piano, but as a child of the 1970s, I grew up in an era in which the sound of an electric piano was more prevalent in the popular music of the day than was the acoustic instrument. The sound of the Fender Rhodes and the Wurlitzer were heard regularly on the radio and records played at parties while I a kid.
I've long wanted to integrate the Rhodes into my musical palette as a bandleader and my 2018 Sunnyside release, Then and Now, my twentieth record as a leader, was the first time that I recorded with the instrument on an album of my own. I greatly enjoyed the kind of sonic liberation I found in freely combining and blending the Rhodes with the acoustic piano for a few tracks.
I love the warm, dark saturated overtones of the Rhodes. It is a beautiful sound and, like an acoustic piano, the way its overtones spill into one-another gives the instrument a truly orchestral quality. Although the Rhodes has bell-like characteristics in some ways similar to a vibraharp, it allows a lusciously orchestral dimensional expanse and substantiality.
I planned Benny's Crib to be a continuation of the ensemble cast I'd presented on Then and Now, which is my working trio augmented by three guest performers, flautist Anne Drummond, vocalist Veronica Swift and percussionist Josh Jones for a few of the selections, as a further extensions of my basic instrumental palette of piano, bass and drums. With Anne's flutes and Veronica's voice, I like to "stack" or "layer" a virtual "few" of them to make chords and counterpoint, sometimes doubling the clusters I play on the piano with my right hand.
Bassist David Wong has now worked in my band longer than anyone, seven years, and again lends his impeccable service to Benny's Crib. The lone variation in personnel from the previous album is our new drummer, Aaron Kimmel, who we love.
It somehow just came about in the recording sessions and production of this album, that I found myself gravitating to the Rhodes quite consistently. Along the way, it occurred organically rather than by pre-conceived design that this is an all-electric piano album. That said: I don't believe that I was seeking to make any more of a statement by featuring the Rhodes on this album than simply going with my heart in what I was hearing at the time.
Dexter Gordon's "Tivoli" holds deep emotional significance for me as a melody. I had a love in Copenhagen, the home of Tivoli Gardens, where most kids go to have their first date. Copenhagen was a place of romance and rejuvenation for Dexter and I feel so much from this simple melody. I'd recorded my original "Central Park South" twenty-four years ago in 1996 for the Blue Note album, Kaleidoscope, and I've recently enjoyed revisiting some of my earlier compositions and arrangements. My teacher and "New York Father," the late and wonderful Walter Bishop, Jr., penned "Coral Keys." This track also features Anne's flutes along with Josh Jones playing the congas. I dig the simplicity of this piece, it is such a very relaxing vibe for me and that's why I love it.
"My Girl Bill" was also originally recorded on Kaleidoscope, a trio recording with Russell Malone and Ron Carter. The title was "commissioned" by my girlfriend at the time, who had been given the nickname by her older brothers. I really dig playing this music, which I wrote so long ago, in the present on a Rhodes. It puts my own expression into another kind of vortex, which is a natural expansion for me at this time and deeply liberating. Anne Drummond gave a beautiful reading of my instrumental "Harold Land" (dedicated to the great tenor saxophonist-composer) almost ten years ago, on her album Revolving, so asking her to record it with me on a Rhodes has been something I've wanted to do for some time.
"Did We Try" had a thematic inspiration on the sense of looking back on a relationship in hindsight, acknowledging that both people did their best to try to build what was a spark between two individuals into a lasting team It is also about letting go peacefully and with gratitude and acceptance. Kenny Barron is my favorite living pianist and he is also a wonderful writer. I was introduced to his "Seascape" thirty-five years ago, in the mid-'80s, by the great Buster Williams. It is still as fresh and as a warm breeze blowing off the ocean. "My One And Only Love" is one of my favorite "standard" ballads. Whenever I play it (traditionally on the acoustic piano), I feel so many "only" loves: the love of a person and my love of the piano, as well as my love of people and getting to play for them. It is all "one" love, my one and only!
Cedar Walton was one of my primary inspirations to become a Jazz pianist and composer. I play many of his compositions because they're a joy for us musicians and for our audience. Cedar is pure sunshine to me and his "Something In Common" is one of his many masterpieces, which I want to be heard and love to play. McCoy Tyner stands as one of the most prolific and innovative and universally impactful musicians of the past sixty years. While I don't play many waltzes, I am very drawn to his "For Tomorrow," which is among with more spiritually uplifting melodies he's given us. In addition to her stellar talent as a vocalist, Veronica Swift is a brilliant lyricist who wrote and sang her own lyrics to my original and the closing of the title track "Benny's Crib," which I'd earlier recorded as an instrumental for my first Sunnyside release in 2012, entitled Magic Beans.