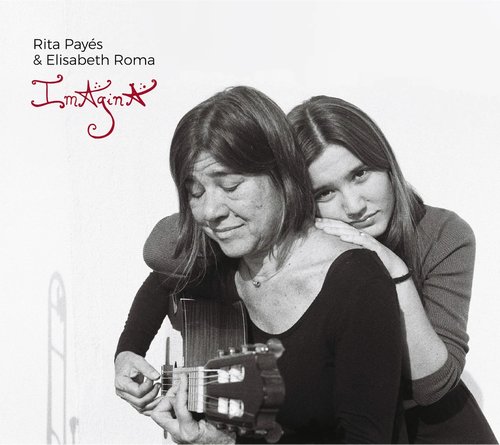 Artist:
Rita Payes & Elisabeth Roma
Album:
Imagina
Genre:
Latin Jazz, Vocal Jazz
Released:
2019
Quality:
FLAC (tracks+.cue)
Tracklist:
Imagina (Jobim-Buarque) - 4:09
Melodia Sentimental (Villa-Lobos/Vasconcelos) - 4:56
Drume Negrita (Grenet) - 3:54
Alfonsina y el Mar (Ramirez-Luna) - 5:48
Porque Llorax Blanca Nina (Trad.) - 3:54
Eu Sei Que Vou Te Amar (Jobim-DeMoraes) - 4:10
If the Moon Turns Green (Hanighen-Cates) - 4:58
A Rita (Buarque) - 4:18
Senhorinha (Guinga-Pinheiro) - 5:28
Algo Contigo (Novarro) - 5:02
Oracion del Remanso (Fandermole) - 6:03
Carinhoso (Pixinguinha-De Barro) - 3:51
DOWNLOAD FROM FILECAT.NET >>>
The 19 years old young Catalan trombonist and singer Rita Payés has lived and breathed music since she was a child thanks to her musical family. She studied piano, and later trombone which became her main instrument. She entered the well-known Sant Andreu Jazz Band under the direction of bassist and tenor player Joan Chamorro, and participated on several albums along with Andrea Motis, Eva Fernandez and Magali Datzira. At the age of 16 she released with Chamorro her first album Joan Chamorro presents Rita Payés featuring Scott Hamilton, Dick Oats, Scott Robinson, Toni Belenguer and Jo Krause among others, followed next year by her sophomore, Lua Amarela. Rita has performed in some of the most venerated stages and festivals in the country and abroad, such as Barcelona Jazz Festival, Jamboree Jazz Club, L'Auditori de Barcelona, Barnaswing, Summer Festivals in several villages of Catalonia as well as venues in France and Switzerland.
For her latest project, Imagina, Rita joined forces with her mother Elisabeth Roma, an exceptional classical guitarist. Mother and daughter launched their debut album during the London Catalan Festival 2019 in the beginning of June, giving their personal take on the music that has accompanied them all their lives, from traditional Catalan lullabies to bossa nova, fado, boleros… The family project started when Rita booked a two-day studio session for Elisabeth as a birthday present in June 2018. Rehearsing and preparing for that session, they re-evaluated and strengthened their repertoire and arrangements. It was then when they decided to take the project further and release it on album. Imagina is a meeting point between two generations, two points of view. It's neither strictly jazz nor classical. It's a highly personal interpretation of Rita's and Elisabeth's favourite music.
Elisabeth Roma has a classical musical background but she has always been inspired by Latin American music, especially bossa nova, from the voices of Jobim, Chico Buarke and Elis Regina amongst others. Besides her work as a music educator, she has performed as a classical guitarist for most of her career, both as a soloist and in larger ensembles. Elisabeth has incorporated her visions of classical guitar into the repertoire that she plays with Rita, using her excellent musicality and techniques and combining them with the personal sounds of Rita's melodies and improvisations.