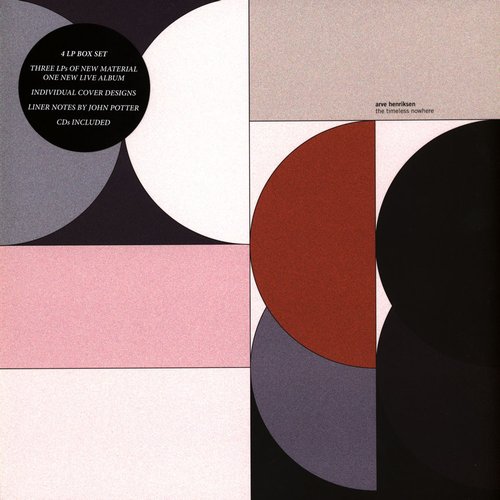 Artist:
Arve Henriksen
Album:
The Timeless Nowhere
Genre:
Modern Creative, Avant-Garde Jazz, Ambient
Label:
Rune Grammofon
Released:
2019
Quality:
FLAC (tracks+.cue)
Tracklist:
CD 1 - Towards Language: Live at Punkt, Acousmograph:
Towards Language: Live at Punkt

Traces of Words (4:11)
Aspirations (2:44)
Patient Zero (2:05)
Towards Language (2:52)
Guarded (3:49)
Groundswell (5:58)
Turf War (3:09)
Vivification (4:29)
Biding Time (5:43)
Paridae (4:38)
Acousmograph
Shadow Lines (2:18)
Prelude Unfolding (3:55)
Pathless Forest (3:00)
Cinematique Graphique (4:47)
Port of Call (1:09)
Monochrome Garden (4:42)
The Timeless Nowhere (4:07)
Chamber Calibration (2:19)
Embracing Life of Solitude (4:42)
Dimly Lit Frescoes (4:26)
Point of Departure (4:04)
CD 2 - Captured Under Mountainsides, Cryosphere:
Captured Under Mountainsides

Amazed by Its Beauty (1:28)
From a Distance (5:30)
Fog and Light (2:34)
Traces, Marks and Imprints of Time (2:36)
Abandoned Schoolhouse (2:05)
Valley Echolocation (3:11)
The Storyteller (2:45)
The Painter, the Poet and the Past (4:43)
Bedehus: House of Prayer (1:47)
Tun: Old Remains of Settlement (4:45)
Water Inscriptions (3:49)
Tilia Cordata (5:31)
Cryosphere
Origin (3:59)
Perfectly Diffuse (3:11)
Subsurface (1:51)
Radiative (4:34)
Eating Stars (4:39)
Intoku (3:48)
Levitation (3:40)
Aerial (5:57)
Myosis (6:22)
DOWNLOAD FROM FILECAT.NET >>>
The Timeless Nowhere contains four separate albums comprised almost exclusively of unreleased material by trumpeter, composer, producer, and conceptualist Arve Henriksen recorded between 2009 and 2019. Only Towards Language: Live at Punkt (2018) has appeared before, exclusively in digital form. Acousmograph, Captured Under Mountainsides, and Cryosphere are unique to this collection. Though technically a retrospective of the last decade, each recording easily stands on its own. The set includes a fine liner essay by John Potter (ex-Hilliard Ensemble) explicating sources for each album.
Captured Under Mountainsides includes a dozen haunted tracks that reflect the breathtaking natural world the composer grew up in. The origins of these works were drawn from travel. There are three studio exceptions: "The Painter, the Poet and the Past" dates from the 2012 Places of Worship sessions with Jan Bang and Erik Honoré; "Tún - Old Remains of Settlement" was recorded with Skúli Sverrisson and Hilmar Jensson during the recording of 2015's Saumur; "Tili Cordata," with Bang, was influenced by the track "Opening Image" from 2004's Chiaroscuro. Acousmograph was recorded solo. Henriksen helms trumpets, wordless vocals, piano, celeste, harmonium, synthesizers, and provides edited field recordings, organic, and electronic sounds. The title track of the box is included here. It was inspired by Polish composer Krzysztof Penderecki's Stabat Mater (1962) and St. Luke Passion (1963-1966), touching on the former's lyric while revisioning the 12-tone experimentalism of the latter. "Dimly Lit Frescoes" is a composed demo for the collective Supersilent's 2017 installation at Emanuel Vigeland Mausoleum during Norway's Ultima Festival. Henriksen, a founding member of the ensemble in 1998, with Helge Sten (Deathprod), Ståle Storløkken, and Jarle Vespestad continues to work in it. Cryosphere was co-produced with Bang, who reused, re-layered, remixed, and reinvented material generated by Henriksen and percussionists Audun Kleive, Helge Norbakken, and Ingar Zach. The rest comes from Bang and a couple of his students who sampled a series of concert performances, then re-encountered and manipulated it five years later in a studio. Finally, Towards Language: Live At Punkt (Studio) was cut with a quartet whose other members are Bang (samples and live sampling), Aarset (guitars and electronics) and Honoré (live sampling and synth). About half of it contains live improvisations. Henriksen's key processes -- reimagining existing material, reinventing musical artefacts -- are foundational precepts for these selections. It challenges the entire notion of what "live" means in this context. There is a brief, gorgeous trumpet quote from "Over the Rainbow" in "Traces of Words," which was inspired by a lyric melody from composer Tigran Hamasyan. "Patient Zero" is a live, improvised ballad that abstracts and recombines elements of blues, jazz, and Norwegian folk music. While The Timeless Nowhere does provide fans with a roadmap to hidden corners and unopened cupboards in his discography, it also counts as a wholly new work, given the strategies applied in its presentation, and therefore offers the uninitiated a deeply rounded, expansive introduction to the gorgeous variety of Henriksen's work.
Review by Thom Jurek