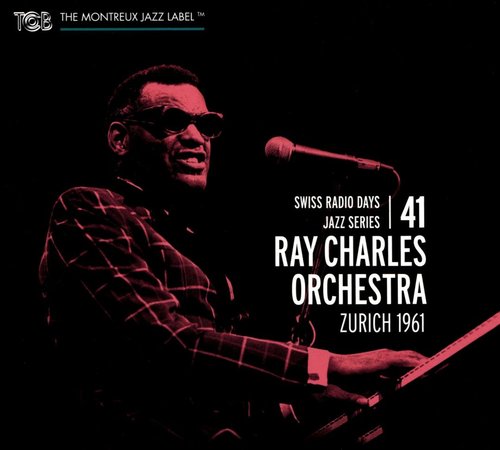 Artist:
Ray Charles Orchestra
Album:
Swiss Radio Days Jazz Series, Vol.41: Zurich 1961
Genre:
Soul, Big Band
Label:
TCB Records
Released:
2016
Quality:
FLAC (tracks+.cue)
Tracklist:
Happy Faces (Stitt) - 3:27
Along Came Betty (Golson) - 3:32
My Baby (Charles) - 4:26
Sticks and Stones (Turner) - 3:35
Georgia on My Mind (Carmichael-Gorell) - 6:21
Blue Stone (Crawford) - 7:10
Margie (Conrad-Robinson-Davis) - 2:53
Hit the Road, Jack (Mayfield) - 2:27
The Birth of a Band (Jones) - 3:54
I Remember Clifford (Golson) - 5:25
Come Rain or Come Shine (Arlen-Mercer) - 7:28
Ghana (Wilkins) - 4:11
I Believe to My Soul (Charles) - 4:03
I've Got News for You (Alfred) - 4:27
Misty (Garner) - 7:32
I Wonder (Gant) - 3:50
Ray Minor Ray (Golson) - 4:02
DOWNLOAD FROM FILECAT.NET >>>
Personnel:

Ray Charles - piano, vocals
Marcus Belgrave, Wallace Davenport, Phil Guilbeau, John Hunt - trumpets
Henderson Chambers, Dickie Wells, Keg Johnson - trombones
Rudy Powell - alto saxophone
Hank Crawford - alto saxophone, band leader
David Newman - tenor saxophone, flute
Don Wilkerson - tenor saxophone
Leroy Cooper - baritone saxophone
Elbert "Sonny" Forriest - guitar
Edgar Willis - bass
Bruno Carr - drums
The Raelettes: Priscilla "Pat" Lyles, Margie Hendricks, Gwen Berry, Darlene McCrea - vocals
This release contains legendary concert recordings by a young Ray Charles and his big band in Zurich, 1961. This concert was the start of a tour that would be crucial for Charles and his career - he was about to become a big world star. Ray Charles - The genius, best known for his hits like Hit the Road Jack, I Got a Woman and Georgia on My Mind - was a rising star when performing in Zurich with his big band in 1961. The big band on this release, appeared to be an ideal platform for what he had in mind to create jazzy music that he would mark with his own stamp by adding vast touches of soul and rhythm'n blues. With a remarkably balanced repertoire and brilliantly devised full orchestral tutties, at the time of this tour, Ray Charles' Big Band was at it's peak to deliver the singer's deliberately flashy musical credo 'Genius Soul = Jazz'.