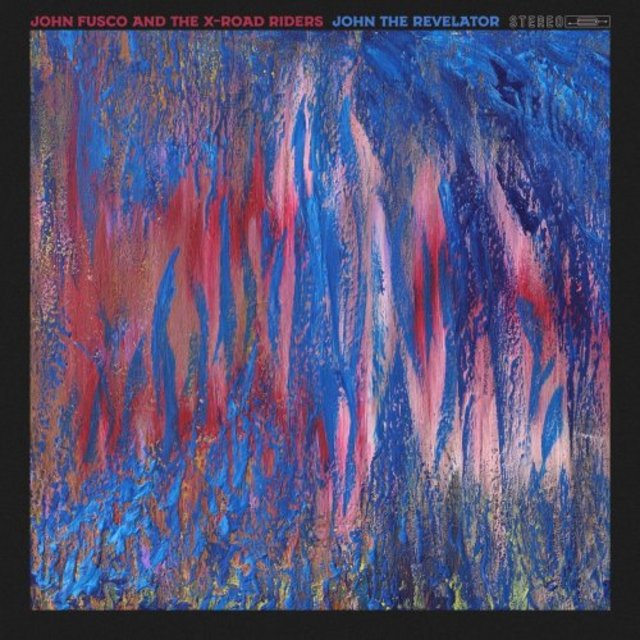 Artist:
John Fusco and the X-Road Riders
Album:
John the Revelator
Genre:
Rockin' Blues
Label:
Checkerboard Lounge Records
Released:
2020
Quality:
FLAC (tracks)
Tracklist:
John the Revelator
Baker Man
Bone Deep
It Takes a Man
Ophelia
Don't Mess Up a Good Thing
Applejack Brandy
Why You Choose Me
Bad Dog
Snake Oil Man
Song For Peter
Jacqueline
Hottest Part of the Flame
Language of Angels
Fools Fire
Baby Let's Not Borrow
Moonstone Lady
Motel Laws of Arizona
Good Money
The Sun Also Rises
DOWNLOAD FROM FILECAT.NET >>>
LOS ANGELES, Calif. — Vermont bluesman John Fusco and his band the X-Road Riders will follow up their acclaimed 2019 self-titled debut with the 20-song double album John the Revelator, due out July 31, 2020 on Checkerboard Lounge Recordings.
More than three decades after a teenaged Fusco ran away from his New England home to Louisiana and the Mississippi Delta — returning with a semi-autobiographical screenplay called Crossroads (and an unlikely discovery as a Hollywood screenwriter) — the writer-musician returned to his old Southern stomping grounds. He was back in the Delta to film his Netflix hit The Highwaymen, but a series of impromptu jam sessions with Cody Dickinson, whose father Jim had been a music advisor on Crossroads, turned into an album of Fusco's original blues.
For John the Revelator, Fusco has assembled a cast of modern blues stars: Dickinson (the North Mississippi Allstars), who produced Fusco's first, appears behind the board again and also contributes background vocals, drums, bass, guitars, dobro, piano, and electric washboard. Vocalist Risse Norman, who has toured and recorded with the North Mississippi Allstars and Samantha Fish, also returns. They are joined by new Fusco collaborator Sarah Morrow, former trombonist for Ray Charles and bandleader for Dr. John.
The big-name collaborations also extend to the album's cover, which features artwork by Bobby Whitlock, best known as a keyboard player for Sam & Dave, Delaney & Bonnie, and Derek & the Dominoes, among others. Fusco also brings back his "northern chapter" of the X-Road Riders from his Vermont home.
John the Revelator was recorded at Dickinson's tiny Checkerboard Lounge home studio outside of Memphis in Southaven, Mississippi, and at the more spacious Meadowlark Studio in Burlington, Vermont, with George Walker Petit (Boz Skaggs, Michael McDonald) producing and adding guitar and bass.
The contrast in creative circumstances spills over onto the record itself, which alternates between the raw, gutbucket feel Fusco explored on his first, Dickinson-produced album and the more ruminative, writer-centered approach of his new material.
"The first album was a loose, high-octane jam sesh, and Cody hit the record button. This next one digs into some deeper emotional clay as with 'Language of Angels,' 'Applejack Brandy,' and 'Ophelia,'" says Fusco of the more subdued, gospel-laced material he cut at Meadowlark on the studio's grand piano. "Braiding the more emotional ballads in with the raw blues rockers and traditional blues stuff, it makes the album a little more unexpected and mercurial."
Over the decades Fusco let too many songs slip through his fingers, not having had the time to work on them (he has written more than 15 major movies and TV shows since Crossroads). Now he started to set them down, plumbing a lifetime of experiences and memories for a collection as sweeping in scope and heartfelt in detail as any of his screenplays or novels.
All the dichotomies at play — between Dickinson and Petit (a noted jazz guitarist and producer), Mississippi and Vermont, Checkerboard and Meadowlark, downhome blues and introspective songwriting — created a dizzyingly eclectic record. Bawdy rockers like "Bone Deep" rub up against tender love songs like "Applejack Brandy." The gritty stripped-down sound of "Baker Man", gives way to equally evocative mood pieces such as the title track, a cover of a blues standard made famous by Son House. The Randy Newman-esque satirical jab of "Snake Oil Man" stands in stark contrast to the achingly heartfelt "Language of Angels."
Binding it all together is Fusco's voice. Not just his distinctive Hammond B3 and piano or his gritty vocals, but his way with words and especially deep drawn, cinematic characters — the too familiar huckster in "Snake Oil Man," the doomed lovers of "Hottest Part of the Flame" with Morrow's trombone evoking the femme fatale, and the down-and-out drifters of "Motel Laws of Arizona."
The record was so diverse Fusco and his team originally considered breaking it up into two albums or perhaps a series of EPs. It was Dickinson, exhibiting shades of his late father's "throw it up on the wall" ethos, who said otherwise.
"He said, 'Man, just pull the trigger. Release them all. This is all part of this one flow that represents your music at this time,'" Fusco recalls. "Early on in my writing career, the industry tried to pigeonhole me as the Western Americana guy. I learned, over time, to never let a story get trapped in a genre box as long as the DNA is rooted in your true voice. That's how I feel about my music. It all comes out of blues and gospel, but some of the stories and themes find a style that even takes me by surprise; they find a music engine that crosses the borders and breaks out of any box. The story finds the right music to carry it. For me, story is always the compass."