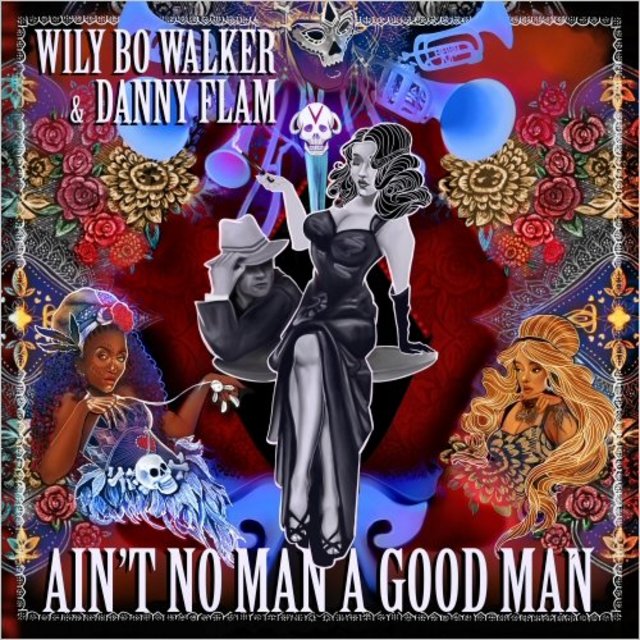 Artist:
Wily Bo Walker & Danny Flam
Album:
Ain't No Man a Good Man (Deluxe)
Genre:
Blues, Blues Rock
Label:
Mescal Canyon Records
Released:
2020
Quality:
FLAC (tracks)
Tracklist:
CD 1:

Ain't No Man A Good Man (4:21)
Fool For You (2020 Hindsight) (4:09)
Did I Forget (4:14)
Velvet Windows (Treme Trippin') (3:54)
Walking With The Devil (Blood On My Hands) (4:51)
Night Of The Hunter (4:30)
Ain't Hungry No More (4:40)
Time To Forget You (4:33)
St James Infirmary Blues (3:29)
Build My Gallows (Ain't No Return) (5:15)
CD 2:

I Want To Know (New York Funk Mix) (4:12)
Who Do You Love (New York Chiller Mix) (4:42)
Walk In Chinese Footsteps (4:32)
For The Children (5:02)
Drive (3:47)
Jawbreaker (3:46)
Moon Over Indigo (6:01)
When The Angels Call Your Time (4:43)
Long Way To Heaven (Chicago Gospel Mix) (4:13)
DOWNLOAD FROM FILECAT.NET >>>
Expanding upon the success of their 2015 album "Moon Over Indigo," Scottish blues and rock provocateur Wily Bo Walker and Grammy Award winning musician and arranger and leader of the New York Brass, Danny Flam, called in over thirty of the best U.S. & UK musicians and vocalists on a new volume of music that explores the genre twists that have come to be expected of a Wily Bo production. The session players included members of Walker's acoustic and electric bands, a wide assortment of guitarists, drummers, keyboardists and of course the New York Brass with special appearances by The Brown Sisters of Chicago Gospel Choir and The Cenovia Cummins String Quartet.
"Ain't No Man A Good Man" features ten tracks that take listeners on a swinging macabre jazz and blues funhouse ride of thrills and chills. The album opens with the supercharged Blood, Sweat and Tears inspired title track setting the stage for a passion play of furious horn driven theatrical soul music. Those horns are paramount in the successful rearrangement of the bump and grind blues 'Fool For You (2020 Hindsight)' bulking up the British Power Blues from 2016 into a full wall of sound sonic assault. Walker takes a page out of the Long John Baldry playbook on the hard swinging 12/8 blues 'Did I Forget,' confessing his love with a roaring baritone accented by sharp horn jabs and rambunctious baritone sax from Ron Bertolet.
The jagged boogaloo 'Velvet Windows (Treme Trippin')' finds him playing the role of a man in turmoil with the complications of love. The confessional continues on the alluring 'Walking With The Devil (Blood On My Hands),' a slow burning blues samba featuring soaring lead guitar from Mike Ross. Songwriter E.D. Brayshaw, frequently the guitar playing sidekick of Wily Bo Walker, co-wrote 'Night Of The Hunter' that first appeared on the 2019 album "The Roads We Ride" billed as "Wily Bo & EDB's blues-infused three penny Rock Opera," that, with the addition of the stirring horn chart, achieves full film noir soundtrack status.
Walker packs up the crew for a trip down to the Caribbean to revisit the Voodoo Zombie Blues from the 2014 "Rattlin Bone's" collection, 'Ain't Hungry No More,' rearranging it with a tasty reggae treatment. The late night blues 'Time To Forget You,' from Jimmy Dean Brooks was first recorded at Abbey Road Studios in 2010 for a collaboration with Wily Bo and UK vocal sensation Kareña K, while Danny Flam & The New York Brass and Brown Sisters step in to give it classic horn driven R&B pizzazz.
The final act of the album is journey "de Londres à la New Orléans" - from London to New Orleans - beginning with a vaudeville romp through the oft recorded standard 'St James Infirmary Blues' with Wily Bo playing the role of the ringmaster in a swirling three circus spectacular. He then doffs his cap in tribute to British Blues Royalty by evoking the Led Zeppelin aesthetic for the incendiary finale 'Build My Gallows (Ain't No Return),' casting Troy Redfern to emulate Page's legendary slide work on the Silvertone, while the Cenovia Cummins String Quartet supplies the Kashmir flavor, referencing the album title in the pleas of a man fated to pay the ultimate price for his forbidden desires.
Once again Wily Bo Walker defies the conventional blues paradigm, engaging in a diabolical collaboration with Danny Flam for "Ain't No Man A Good Man," creating another fine addition to his over two dozen releases in his illustrious 40-year career.
by Rick J Bowen