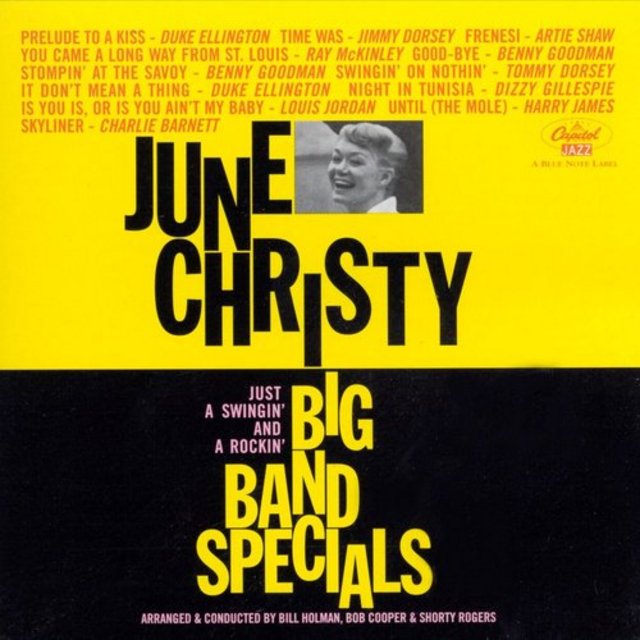 Artist:
June Christy
Album:
Big Band Specials
Genre:
Vocal Jazz
Label:
Capitol Jazz
Released:
1999
Quality:
FLAC (tracks+.cue)
Tracklist:
You Came a Long Way from St. Louis (Brooks-Russell) - 2:18
Swingin' on Nothin' (Oliver-Moore) - 2:26
Is You Is or Is You Ain't My Baby (Austin-Jordan) - 2:49
Prelude to a Kiss (Ellington-Gordon-Mills) - 3:56
Skyliner (Barnet) - 3:04
A Night in Tunisia (Gillespie-Hendricks) - 2:53
It Don't Mean a Thing (Ellington-Mills) - 1:46
Frenesi (Dominguez-Charles-Russell) - 2:23
Stompin' at the Savoy (Sampson-Razaf-Webb-Goodman) - 2:32
Goodbye (Jenkins) - 3:07
Time Was (Duerme) (Prado-Luna-Russell) - 2:58
Until (The Mole) (David-James-Holmes) - 2:48
DOWNLOAD FROM FILECAT.NET >>>
By the time this album was recorded in 1962, singer June Christy had already cut the great bulk of her discography. Many, critics especially, put her past her prime. This album demonstrates that the critics were wrong and the "Misty Miss Christy" was still at the top of her form. Her instantly recognizable voice takes the listener through a roster of tunes associated with the big bands. And she has a big band backing her that is made up of some of the best players on the West Coast -- or any coast, for that matter -- many of whom were habitues of the Stan Kenton band before Kenton's music became pretentious. The charts also came from former Kenton chart makers, Bill Holman, Shorty Rogers, and husband Bob Cooper. Most everything on this disc is done up-tempo. But things slow down a bit for a track or two, especially a typical Christy haunting version of "Goodbye" and a medium-tempo "Frenesi." The list of players in the band itself speaks eloquently of how good they sound. There are eloquent solos by Cooper, and Bob Mondragon basslines stand out on a few of the tunes. Jimmy Rowles and Mel Lewis round out the rhythm section. With Christy singing in her inimitable manner, backed by a big band of five star performers with top of the list charts, there's no way this album wasn't going to be successful. Originally issued on the Capitol label, the LP was reissued as a CD on Blue Note in 1999. A must for any jazz/pop vocal collection.
Review by Dave Nathan