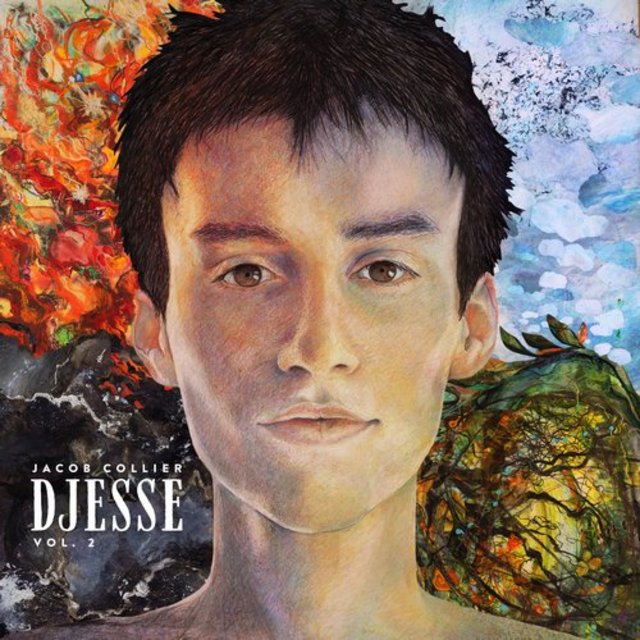 Artist:
Jacob Collier
Album:
Djesse, Vol. 2
Genre:
R&B, Vocal Jazz, Folk
Label:
Hajanga/Geffen/Decca
Released:
2019
Quality:
FLAC (tracks+.cue)
Tracklist:
Intro (1:27)
Sky Above (4:12)
Bakumbe (feat. Sam Amidon) (4:10)
Make Me Cry (3:53)
Moon River (8:17)
Feel (feat. Lianne La Havas) (6:31)
A Noite (Interlude) (2:25)
Lua (feat. MARO) (7:02)
I Heard You Singing (feat. Becca Stevens & Chris Thile) (4:51)
It Don't Matter (feat. JoJo) (4:21)
Here Comes the Sun (feat. Dodie) (3:58)
Dun Dun Ba Ba (Interlude) (1:55)
Nebaluyo (feat. Oumou Sangare) (5:18)
Do You Feel Love (feat. Steve Vai) (3:33)
Outro (2:47)
Time to Rest Your Weary Head (6:09)
DOWNLOAD FROM FILECAT.NET >>>
This young man is really good at it. Since the Beatles there has probably been no more pop music (enriched with jazz elements) with such colourful ideas in the quality of the album Djesse Vol 2, which will be followed by two more releases under the title Djesse and whose predecessor album Djesse Vol 1 was produced in collaboration with the Dutch Metropole Orkest and spans a completely different sound world than Vol 2. The twenty-five year old Jacob Collier apparently lives in the most diverse sound worlds, which he opens up with his albums and embraces as his own. A horizon as wide as Djesse Vol 2 alone opens up, should not only be quite unique in the field of pop/jazz, which horizon ranges from the a cappella wide screen version of the Hollywood hammock "Moon River", created on the occasion of the fiftieth anniversary of the first moon landing, with thousands of singing voices that are largely electronically generated from Jacob Collier's vocal contribution, to the Spartan African-sounding song Bakumbe, enriched with Irish fiddle, the calm style of which finally degenerates into an orgy of sound, and on to beautifully designed songs like Make Me Cry and Sky Above, which suddenly pick up speed in the second half. Again and again, one is amazed at the tension created by the calmly conceived, extremely slow gliding songs like Feel. It is not hard to give yourself over to these songs and forget everything around them. That is simply masterful. The purely instrumental interlude À Noite is a successful example that Jacob Collier could also make a successful career as a classical composer. The immediately following, perfectly lasciviously performed song Lua is a Brazilian Bossa-Nova of the first order. It is no wonder that Jacob Collier is just as skilled at funk as he is at Bossa-Nova: It Don't Matter could be a Bobby McFerrin song, but one that is more sophisticated in its instrumentation and rhythmically far more complex than anything McFerrin has ever released. George Harrison would have enjoyed the Jacob Collier version of his song Here Comes The Sun.
Even such a talented young singer, arranger, composer and multi-instrumentalist as Jacob Collier doesn't fall from the sky. His two parents are active as instrumentalists of the British classical scene, which is why Jacob Collier has been familiar with acoustic sound production and classical music since his earliest childhood. In the meantime, his parents had provided him with a solid musical education. Nevertheless, or precisely because of this, he was interested in electronic sound generation as a child and tinkered with and screwed into existing equipment. Later he created his first show around his electronic devices. Then he was lucky enough to be involved in the development and construction of the Vocal Harmonizer at MIT, which allowed him to create up to twelve-voice vocal harmonies simultaneously. In the meantime, this device has become part of the basic instrumental equipment of the Jacob Collier. Above all, however, it is his art of composing and instrumentation that is astonishing. Since Djesse Vol 2 represents an intermediate stage of the obviously high-ranking art of the still very young Jacob Collier, one can be curious to see where his musical journey will take him. In the short term, you can be curious about Djesse Vol 3.