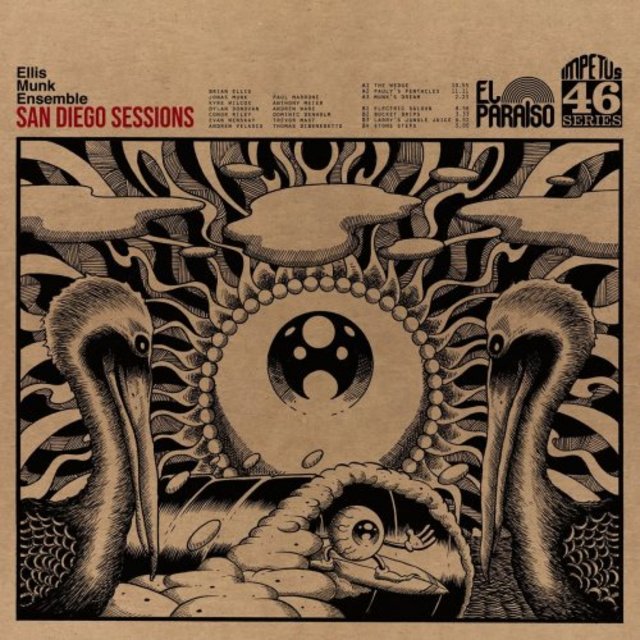 Artist:
Ellis/Munk Ensemble
Album:
San Diego Sessions
Genre:
Psychedelic Jazz-Rock, Jazz Fusion
Label:
El Paraiso
Released:
2020
Quality:
FLAC (tracks)
Tracklist:
The Wedge (10:55)
Pauly's Pentacles (11:11)
Munk's Dream (2:24)
Electric Saloon (8:56)
Bucket Drips (3:34)
Larry's Jungle Juice (6:53)
Stone Steps (5:05)
DOWNLOAD FROM FILECAT.NET >>>
There's really no other place like San Diego. The weather's balmy all year, there's 70 miles of the finest coastline California has to offer, it has one of the most ethnically diverse populations in the US and - most importantly - it's currently THE epicenter for heavy psychedelic rock. Bands such as Earthless, Astra and Radio Moscow have paved the way for an astounding number of bands, creating a tight knit community of musicians. On this session Denmark's Jonas Munk (Causa Sui) joins forces with San Diego native Brian Ellis (who's not only a prime mover in the psychedelic scene, but has also been active in California's jazz and funk circuits for several years), and an assemblage of prime musicians from the area, including members of Astra, Psicomagia, Monarch, Radio Moscow and Sacri Monti.
The result is an intoxicating brew that's hard to put a label on. Fueled by the furious drumming of Paul Marrone, and led by Jonas Munk's fuzzy lead guitar and the multicolored keys of Brian Ellis, there's an unmoored, floating quality to the music the large ensemble was creating at these sessions. It's the kind of record you can put on and just let it wash over you. The closest references would be Miles Davis circa Bitches Brew, Hendrix at Woodstock, or perhaps Can at their most blazing and levitational. The music flows like an electric river of vintage keys, percussion and fuzz guitars. And it's glowing with life. Vinyl comes in gatefold sleeve with art by Alan Forbes and liner notes by Jonas Munk. For fans of Causa Sui, Earthless and Psicomagia this set is not to be missed!