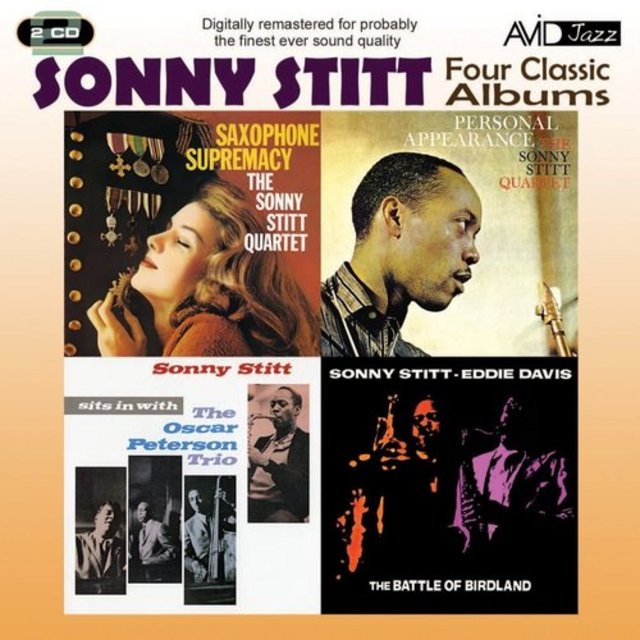 Artist:
Sonny Stitt
Album:
Four Classic Albums
Genre:
Bop, Hard Bop
Label:
Avid Jazz
Released:
2011
Quality:
FLAC (tracks+.cue)
Tracklist:
CD 1:
Saxophone Supremacy (1959)

I Cover the Waterfront (3:18)
Lazy Bones (7:44)
Sunday (3:58)
Just Friends (3:51)
All of Me (3:04)
Two Bad Days Blues (4:47)
It's You or No One (4:34)
Blue Smile (4:10)
Personal Appearance (1957)
Easy to Love (4:46)
Easy Living (4:51)
Autumn in New York (2:21)
You'd Be So Nice to Come Home To (4:53)
For Some Friends (4:45)
I Never Knew (4:28)
Between the Devil and the Deep Blue Sea (5:15)
East of the Sun (5:32)
Original? (4:35)
Avalon (2:55)
CD 2:
Personal Appearance (1957) (continued)

Blues Greasy (3:25)
Sits In with The Oscar Peterson Trio (1959)
I Can't Give You Anything But Love (4:07)
Au Privave (4:02)
The Gypsy (3:29)
I'll Remember April (4:45)
Scrapple from the Apple (4:23)
Moten Swing (7:12)
Blues for Pres, Sweets, Ben and All the Other Funky Ones (6:08)
The Battle of Birdland (1954)
Easy Does It (5:26)
Marchin' (8:54)
S.O.S. (8:03)
Jaws (10:09)
I Can't Get Started (7:30)
DOWNLOAD FROM FILECAT.NET >>>
Arguably never quite in the top league alongside the likes of Charlie Parker (his great influence), Lester Young, Benny Carter, Ben Webster and John Coltrane, nevertheless the great alto saxophonist Sonny Stitt is a welcome addition to our "classic album" series. Across four wonderfully diverse albums we find Sonny amongst four jazz quartets all discovering something new about each other along their musical journey. "Saxophone Supremacy" finds Sonny alongside Lou Levy on piano, Leroy Vinegar on bass and Mel Lewis on drums. For "Personal Appearance" he is joined by Bobby Timmins on piano, Edgar Willis on bass and Kenny Dennis on drums. "The Battle Of Birdland" recorded one Sunday night at New York's famed Birdland club, Sonny teams up with fellow sax titan Eddie Davis for a supercharged blowing session alongside Doc Bagby and Charlie Rice. Finally Sonny joins the Oscar Peterson Trio for a 1959 date "Sits In With The Oscar Peterson Trio" paying tribute to amongst others, his great influence Charlie Parker, Sweets Edison, Ben Wbster, Louis Armstrong and Count Basie.
All four albums have been digitally re-mastered for probably the finest ever sound quality!