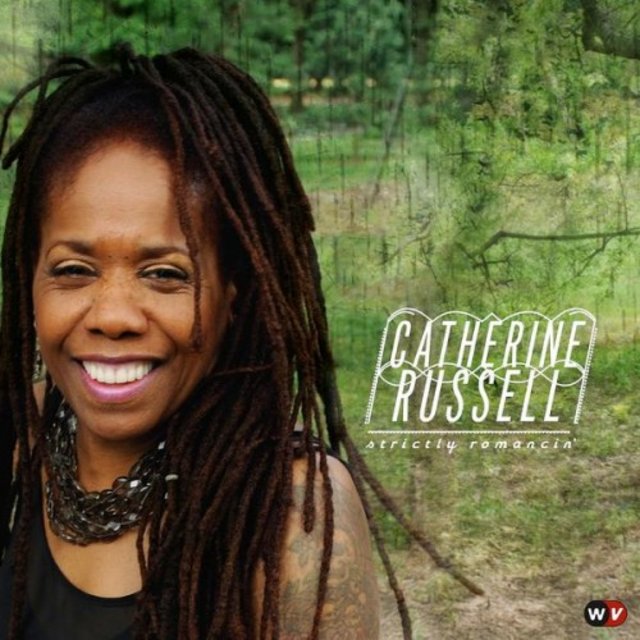 Artist:
Catherine Russell
Album:
Strictly Romancin'
Genre:
Vocal Jazz, Blues
Label:
World Village
Released:
2012
Quality:
FLAC (tracks)
Tracklist:
Under the Spell of the Blues
I'm in the Mood for Love
Wake up and Live
Ev'ntide
Romance in the Dark
I'm Checkin' Out, Goom'bye
No More
Satchel Mouth Baby
Everything's Been Done Before
Don't Leave Me
I Haven't Changed a Thing
Everybody Loves My Baby
He's All I Need
Whatcha Gonna Do When There Ain't No Swing?
DOWNLOAD FROM FILECAT.NET >>>
Personnel:

Catherine Russell, vocals
Matt Munisteri, guitar, banjo, vocals
Mark Shane, piano
Andy Farber, tenor saxophone, arranger
Jon-Erik Kellso, trumpet, horn arrangement
Dan Block, alto saxophone, clarinet
John Allred, trombone
Joe Barbato, accordion
Aaron Weinstein, violin
Carline Ray, vocals
Lee Hudson, bass
Mark McLean, drums
Catherine Russell's "Strictly Romancin' " (World Village) is a bit of a departure here at BlueNotes, since it's really a jazz album, featuring the smoky, sensuous pipes of Ms. Russell.
But we'll make an exception, as we do sometimes -- especially here, since I believe that the blues is the mother tongue of jazz, and Russell's supple vocals celebrate the best of both worlds.
Yes, there are a few blues, and bluesy tunes, but even when they're not, you have to appreciate the liquid flow of the music -- some sexy sax, some elegant guitar, some delicate horns -- all surrounding the very rich sound of Russell's voice. It's truly another instrument in the mix. Well, not just another instrument. It's the best one.
This is late night music, designed for the senses, to savor and let roll easily over your troubled mind. You say you don't have a troubled mind? This will still make you feel even better.
Russell's vocals are a treat, no matter what kind of music you like. She moves easily from the smooth balladry of "Under the Spell of the Blues" to the classic "I'm In the Mood for Love." "Ev'ntide" is another Cognac-smooth rendering, this time of a Hoagy Carmicael tune (I'm sure you all know the great bluesmaster Hoagy. He wrote :Georgia On My Mind" for goodness sake).
The bluesiest tracks here are "Don't Leave Me," by the great Ivory Joe Hunter, one of my personal R&B favorites, and "Romance in the Dark," the sexy Lil Green classic. There are also uptempo numbers like "Satchel Mouth Baby" and the Dixieland-flavored "Everybody Loves My Baby," complete with raucous horns. There's also a stirring gospel duet with Russell's mother, Carline Ray -- the vocal contrast and harmonies with Ray's deep, rich voice reach majestic proportions.
All together, the album is a sparking collection of great songs by Russell, who is turning into one of the classic voices in song. The musical arrangements are all first-rate, and Russell makes each song and style her own. It doesn't matter if you want to snuggle, swing or just listen, it's great music.