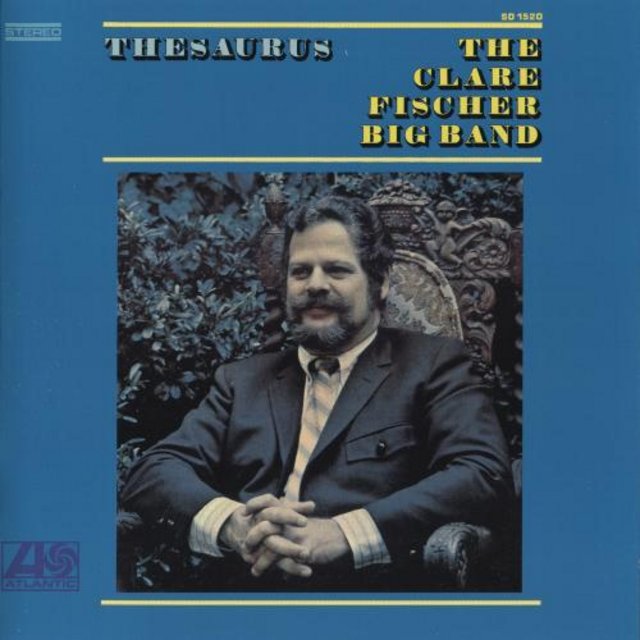 Artist:
The Clare Fischer Big Band
Album:
Thesaurus
Genre:
Hard Bop, Latin Jazz, World Fusion
Label:
Atlantic/WEA/Warner
Released:
1968/2013
Quality:
FLAC (image+.cue)
Tracklist:
The Duke (Fischer) - 5:03
Miles Behind (Fischer) - 5:13
Calamus (S.Fischer) - 4:54
Lennie's Pennies (Tristano) - 5:30
'Twas Only Yesterday (Fischer) - 6:38
Bitter Leaf (S.Fischer) - 7:11
Upper Manhattan Medical Group (Strayhorn) - 4:18
In Memoriam (John F. & Robert F. Kennedy) (Fischer) - 1:57
DOWNLOAD FROM FILECAT.NET >>>
Personnel:

Clare Fischer - piano, Fender-Rhodes electronic piano
Gary Foster - lead alto saxophone
Kim Richmond - alto saxophone
Louis Ciotti, Warne Marsh – tenor saxophone
Bill Perkins - baritone saxophone
John Lowe - bass saxophone
Larry McGuire, Buddy Childers (#1,2,4,5,8), John Audino (#3,6,7), Conte Candoli, Steve Huffsteter, Stewart Fischer - trumpets
Gil Falco, Charley Loper, David Sanchez - trombones
Morris Repass - bass trombone
Chuck Domanico - bass
Larry Bunker - drums
Clare Fischer's big-band release was only briefly available as an Atlantic LP but it has finally reappeared in the CD era after a brief appearance under another title on LP some ten years after its first release. Fischer's potent originals and first-rate arrangements bring out the best in his musicians, which include Warne Marsh and Conte Candoli (featured on "Miles Behind"), Bill Perkins on a work trumpeter Stewart Fischer specially composed for the baritone saxophonist ("Calamus"), and alto saxophonist Gary Foster featured with Marsh on Lennie Tristano's "Lennie's Pennies." A well-conceived chart of Billy Strayhorn's "Upper Manhattan Medical Group" swings mightily. The leader even makes a rare appearance on alto sax in the brief "In Memoriam" dedicated to the assassinated Kennedy brothers.
Review by Ken Dryden