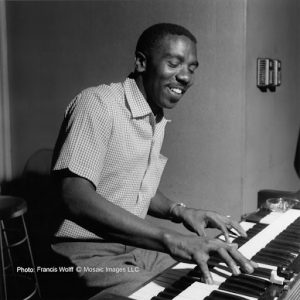 Birth name: James Oscar Smith
Born: December 8, 1925 (Norristown, Pennsylvania, U.S.)
Died: February 8, 2005 (aged 79) (Scottsdale, Arizona, U.S.)
Jimmy Smith, byname of James Oscar Smith, American musician who integrated the electric organ into jazz, thereby inventing the soul-jazz idiom, which became popular in the 1950s and '60s.
Smith grew up outside of Philadelphia. He learned to play piano from his parents and began performing with his father in a dance troupe at an early age. After serving in the navy he studied bass and piano at the Hamilton School of Music (1948) and the Ornstein School of Music (1949–50). He also toured (1951–54) with Don Gardner's rhythm-and-blues group the Sonotones.
After hearing swing stylist Wild Bill Davis, one of the few organists in jazz, Smith was inspired to learn to play the Hammond organ. Earlier, players had used two-handed chords to make organs imitate the power of big bands; Smith's innovation was to use the organ in the manner of horn players and bop pianists to play nimble single-note melodic lines accompanied by gospel music harmonies. In 1955 Smith formed a trio that became highly successful. That year, he began using the B3 model of the Hammond organ, which he was widely credited with popularizing. His series of hit albums, including A New Sound, A New Star: Jimmy Smith at the Organ, Vols. 1–2 (1956) and The Sermon! (1958), helped establish Blue Note as a major jazz record label.
In the early 1960s, Smith began recording with Verve Records. His biggest hit was "Walk on the Wild Side," from his Verve album Bashin' (1962), on which he was accompanied by Oliver Nelson's big studio band. Smith also recorded albums with guitarist Wes Montgomery and owned his own Los Angeles supper club during the 1970s. His 2001 album, Dot Com Blues, marked a departure from his customary jazz style, incorporating blues elements and showcasing collaborations with guest artists that included Etta James and B.B. King. Smith's last album, Legacy (2005), was released posthumously and featured some of his greatest hits. Smith was named a Jazz Master by the National Endowment for the Arts in 2005.